Saving hacks, Spending habits
What makes Spiir special? 9 features that have helped +400.000 people manage their finances
Do you think finances and budgeting are complicated, time-consuming, and exhausting to understand?
What if we told you that it doesn't have to be like that …
Our goal is to make personal finance fun, simple and easy, so you're able to do the things that matter most to you – whether that's buying a plane ticket to Paris, inviting all your friends out for drinks next Friday, or just seeing your savings account skyrocket. We got your back.
But … How is that possible? 
Well, we have created 9 unique features within our Spiir app which can help you take control of your finances. Let's take a closer look at them.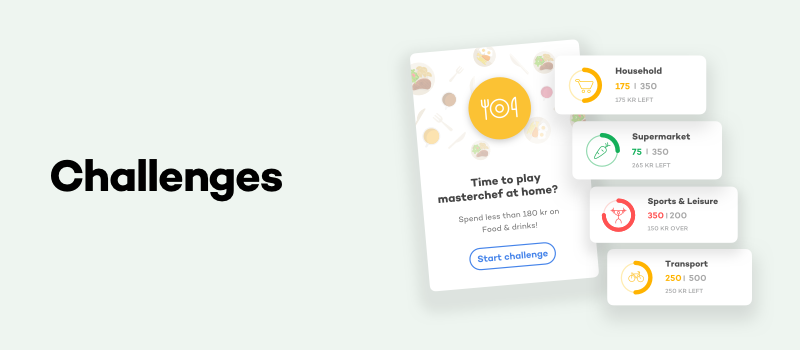 Who doesn't like a good challenge? 
We sure do. That's why we've created a unique take on finance – Challenges: a fun and simple way to save money.  
Here's how it works.
You can take on the challenges we've created for you to help you lower your expenses on things like how much you spend on takeaway, coffee-to-go, or groceries or you can create your own challenges and save money on whatever you like! It's your money, and you're in charge.
We'll track your spending and help you reach your goals with our cheerful updates. 
Do you dare to take up the challenge?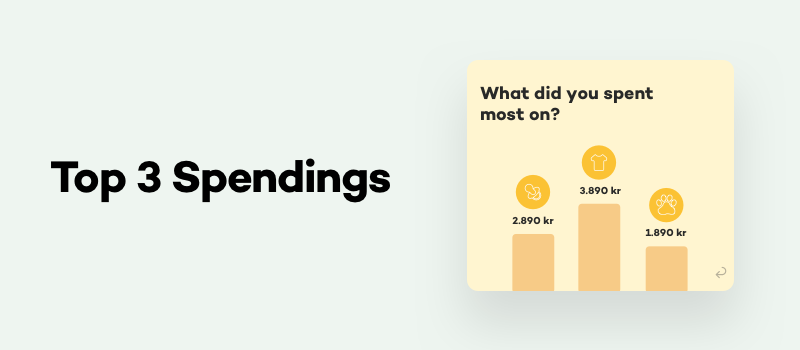 And the winner is …
Each month, the Spiir app gives an overview of your top 3 spendings from the last 3 months. It's a great way to gain financial insights and dig deeper into your spending habits. 
You'll definitely get to know yourself a tiny bit better.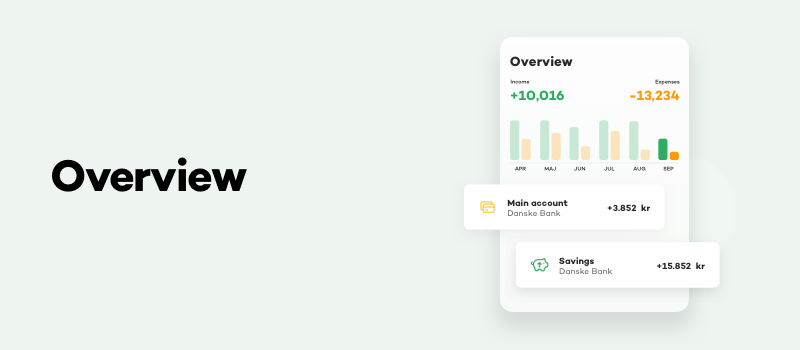 We get it. Keeping track of every single penny can be difficult at times. 
So, our goal is to make it as simple as possible for you to keep track of your spending. With our overview, we'll make the complicated easy to understand. You can track your spendings on a weekly, monthly or yearly basis and easily see where your money goes. All with a simple tap in the app.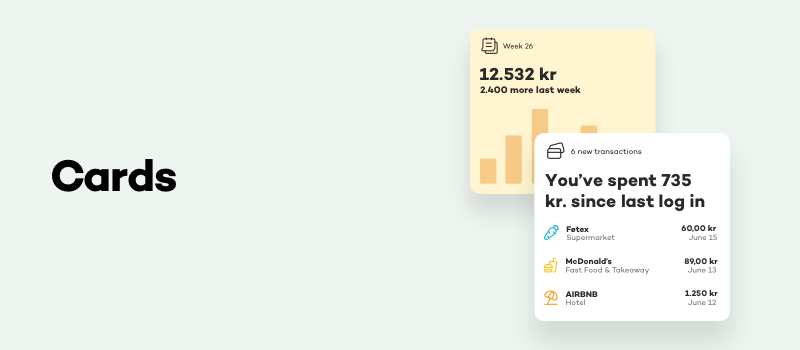 Hey, where did my money go? 
Let's figure it out! 
With our cards, you'll get up-to-date, personalized insights about your finances, such as what you've spent most on this week, spendings on bills this month or maybe just spendings for the week. Basically, everything you need to know.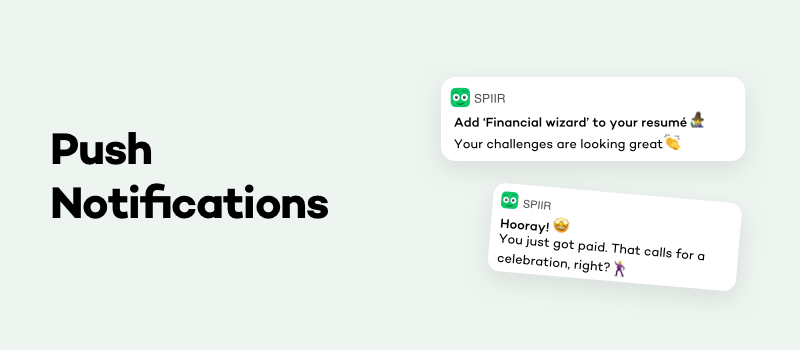 Sometimes, all you need to stay on top of your finances is a little heads-up. 
And that's exactly what you get with our smart push notifications. 
Payday? New expenses? Your weekly overview? We'll send you personalized and smart push notifications for financial peace of mind. Check your messages, and you'll instantly know where you stand financially.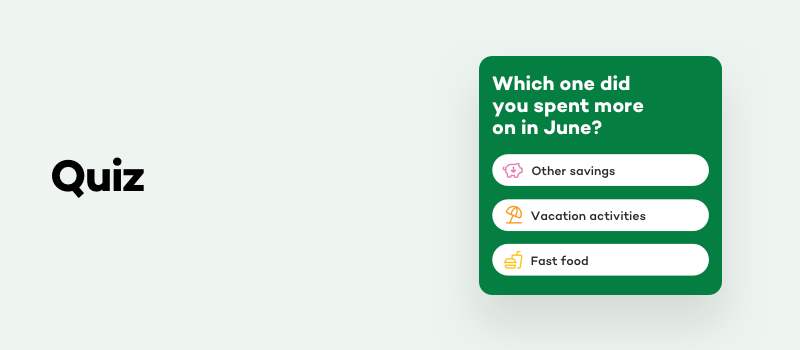 What is your biggest expense? Groceries or pizza? Drinks or clothes? How well do you really know yourself? 
Well, let's take a quiz and find out. With our customized quizzes, you can learn about your spending habits and become more financially conscious. Of course, without having to deal with boring budget sheets and confusing documents.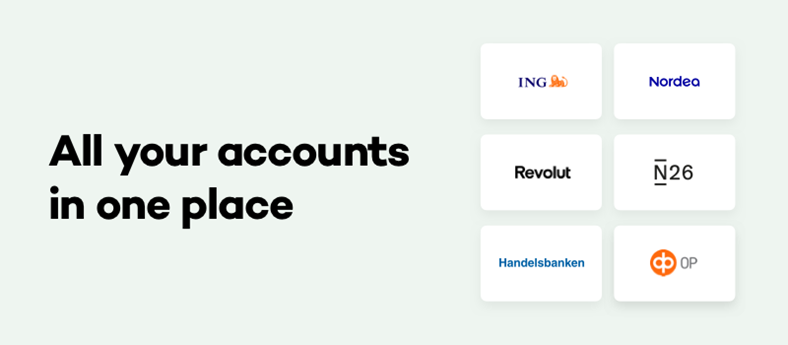 Several accounts? In different banks? Overload of information? 
Hey, that's not a problem. We give you one overview of all your finances. By connecting your accounts to Spiir, your transactions are automatically categorized into more than 80 categories. That's right, you don't have to do any work. 
You don't even have to change your bank. Everything is automatically gathered in one overview.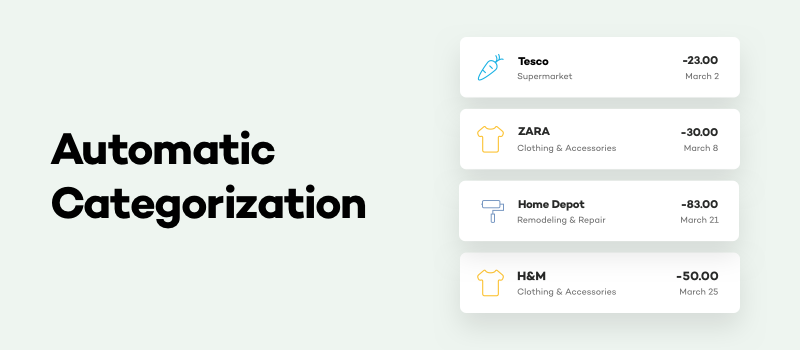 Remember the old days when you had to update your budget manually? Filling out your latest expenses. Trying to keep track of every single thing you spend money on. 
Luckily, those days are long gone when you use Spiir.
Once you've connected your bank accounts to the app, Spiir will categorize your transaction for you. From old transactions to new expenses. Did the app miss an expense? Simply swipe left on the transaction to categorize it yourself.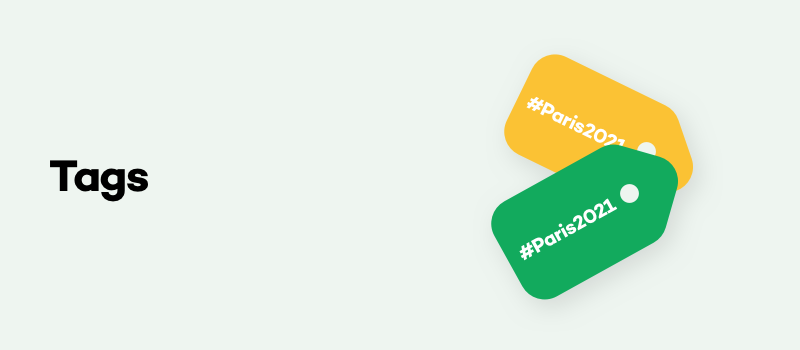 Looking for a way to create your own categories? Then you'll love our #tag feature. 
It's the easiest way for you to keep track of your expenses across our different spending categories. 
Let's say you want to keep track of how much money you spend on a vacation: plane tickets, hotel, eating out, ice cream for the kids (and you too, of course), colorful drinks at the bar, and much more. 
Just add #tags to your transactions related to the vacation, like #Barcelona2021, and the Spiir app will gather all the transactions with this #tag to give you a clear overview of these expenses.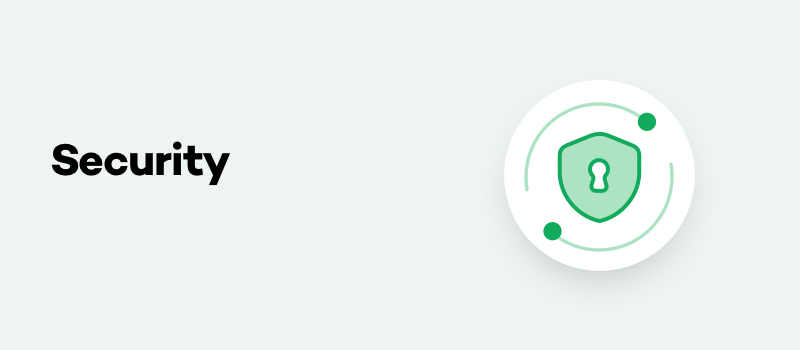 Now you might be thinking: sounds great, but what about security?
And we get it. Connecting your bank accounts to an app is a big deal. That is why nothing is more important to us than your trust and keeping your data safe.
We don't sell your data, and the connection between your bank accounts and the Spiir app is encrypted. We can't see if you order that tasty number 17 from your favorite pizza place or go all-in on fresh veggies at the local farmers' market. That information belongs to you.
Sounds pretty safe, right?
If you have any questions, then don't be shy. Feel free to reach out to us at support@spiir.dk. You can also read more about safety on our website.
Ready to master your finances?
Join more than 400.000 users and download our beta app. You can download it in 14 countries around Europe and easily connect your accounts.
So what are you waiting for?
Download Spiir today and experience a new way of managing your finances.