All your accounts in one place
Connect all your bank accounts and let Spiir do the hard work. Spiir automatically analyses and categorises everything for you. From old transactions to new expenses. Spiir wraps it all up in one single place to give you a crystal clear overview of your finances.  
Overview at a glance
From the big picture to the tiny details, Spiir gives you the full overview of all your finances. Discover where your money really goes each month thanks to powerful insights about your spending habits.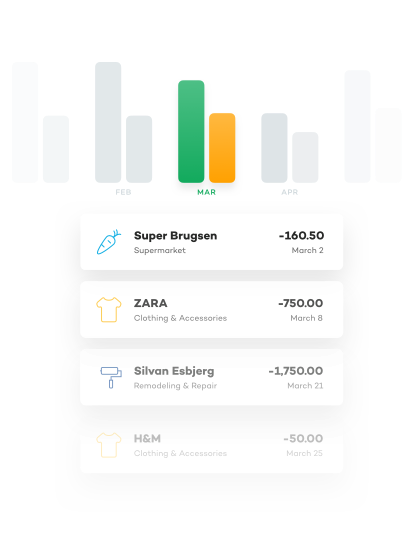 Boost your financial awareness
Thankfully, old-school budgets are a thing of the past. To boost your financial awareness, Spiir helps you understand your spending habits on a whole new level with fun insights, top 3 spending categories and much more.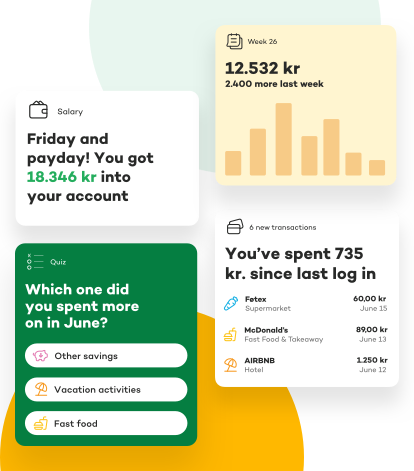 Fun ways to save money
Saving money shouldn't be hard, right? 
That's why we've created Challenges. A fun way to cut back on things like groceries, shopping or other expenses. Take on our challenges or make your own to save money. 
We really can't stress this enough 👇
We don't sell your data. Never have. Never will. 
In fact, nothing is more important to us than making sure you feel 100% safe when you use Spiir. It's entirely up to you if you want to share your data with anyone.
Yup!
Spiir is 100% free. 
We build Spiir to make it easy, simple and fun for everybody to stay on top of their money – completely free of charge 🙌
Naturally, we gotta make some money to keep Spiir running. 
So, we create revenue with our technical platform - Aiia - which is used by banks and other financial services across the Nordics, so they can build financial services that help you manage your money.
We love our users  💚
And keeping your data safe is our top-top-top priority!
We're a licensed Account Information Service Provider and operate under the supervision of the Danish Financial Services Authority. We use Nordic API Gateway to securely connect your bank accounts to Spiir – the connection between your bank accounts and Spiir is encrypted, and we can't see your login information. 
And it's only you who can see what you spend your money on. We can't see if you order that tasty number 17 from your favourite pizza place or go all-in on fresh veggies at the local farmers market. Those numbers belong to you 😉
Hear it from the people
See how we've helped +400.000 users achieve financial peace of mind.
Really helped me getting a better overlook over my expenses and I use it weekly.

SusPed
We always forgot to register our transaction in the standard budget apps- Spiir does it for us automatically!!

Caro&J
Easy to get a fast overview of your economy, but also very flexible if you want to gain a more thorough insight into to your earnings and expenses.

Loubajo